Heute habe ich ein wahres Schnäppchen bei TkMaxx gemacht und zwar diese beiden tollen Sets von Real Techniques! Augenmake-Up Pinsel sind violett, Finish Pinsel sind pink und die Base Pinsel sind gelbgold.
Nun stell ich euch die beiden Sets mal vor:
Your eyes/enhanced Starter Set
Die 5 Pinsel für das Augenmake-Up stechen sofort mit ihrer violetten Farbe heraus. Das Set besteht aus 3 Lidschattenpinseln, einem Eyelinerpinsel und einem Augaenbrauenfüller.
♥base shadow brush: applies a smooth, flawless foundation of color
Dieser Pinsel verspricht eine weiche und fehlerfreie Basis für die Grundfarbe des Lidschattens.
♥deluxe crease brush: soft, oversized design for effortless contouring
Das weiche und große Aussehen des Pinsels verspricht eine mühelose Kontur des Lidschattens.
♥accent brush: designed for precision detailing, spotlighting, highlighting, and smudging
Entwickelt für punktgenau Details, zum Hervorheben und Aufhellen, aber genauso um zu Überblenden und Einzuarbeiten
♥fine liner brush: the ultimate tool for precision application of liquid or cream eyeliner
Flüssig- und Cremeeyeliner können mit diesem Pinsel exakt aufgetragen werden
♥brow brush: distinctive shape easily defines eyebrows
Die markante Form definiert Augenbrauen kinderleicht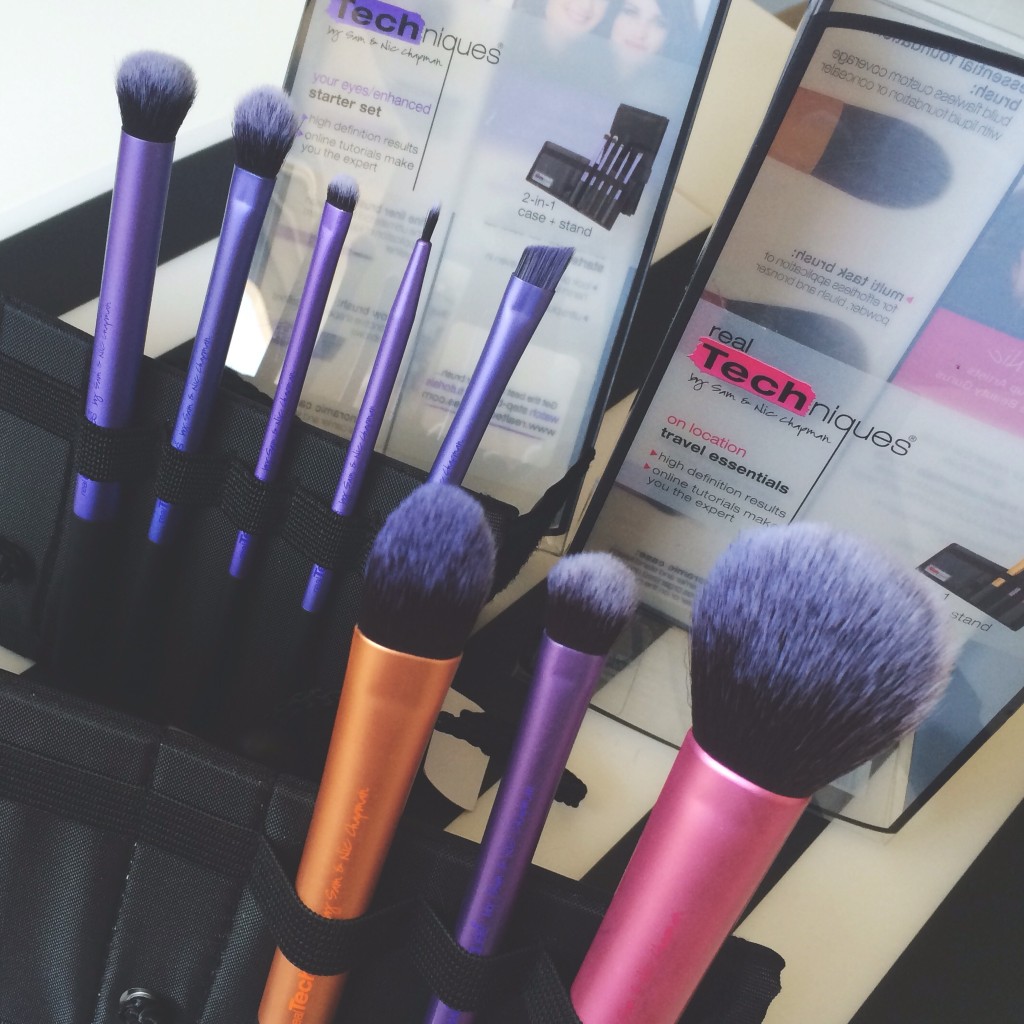 on location travel essentials:
Diese Set besteht aus einem Lidschattenpinsel, einem Basispinsel und einem Finishpinsel.
♥essential foundation brush: Build flawless custom coverage with liquid foundation or concealer
einwandfreie Abdeckung mit flüssiger Make-Up Foundation und Concealer
♥multitask brush: for effortless application of powder, blush, and bronzer
Puder, Rouge und Bronzer können mühelos mit diesem Pinsel aufgetragen werden
♥domed shadow brush: tapered design smoothly shades and defines eyes
Der abgeschrägte Pinsel bekommt mühelos Schattierungen hin, und definiert somit das Auge
Beide Sets kosten in verschieden Onlineshops zwischen 25€ und 28€ pro Set. Ich habe wiedermal ein großes Schnäppchen gemacht, so lange wollte ich diese Pinsel schon testen, da ich sehr viel Gutes gehört habe, war mir aber dann doch zu geizig! Nichts ahnend fand ich diese beiden Sets in der Beauty-Abteilung bei TkMaxx für gerade mal 16.99€ pro Set. Da musste ich doch zuschlagen oder?♥